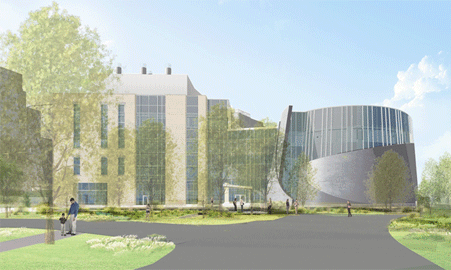 New England Lab was recently awarded the Jackson Laboratory for Genomic Medicine in Farmington, Connecticut. NEL will be supplying a flexible bench system with wood casework, stainless steel casework, fume hoods and other laboratory equipment.
The Jackson Laboratory for Genomic Medicine is a nonprofit research center that identifies the precise genetic causes of diseases. The center is being built on a 17-acre site on the campus of the University of Connecticut Health Center, in conjunction with UCONN's "Bioscience Connection" project.
In January 2013, the concrete foundation was poured for the 189,000 sq-foot building. Structural steel erection began at the end of March. The building will be ready for occupancy in October 2014.
NEL looks forward to working with The Whiting-Turner Contracting Company, TK+A Architects and the rest of the project team on this new and exciting venture!