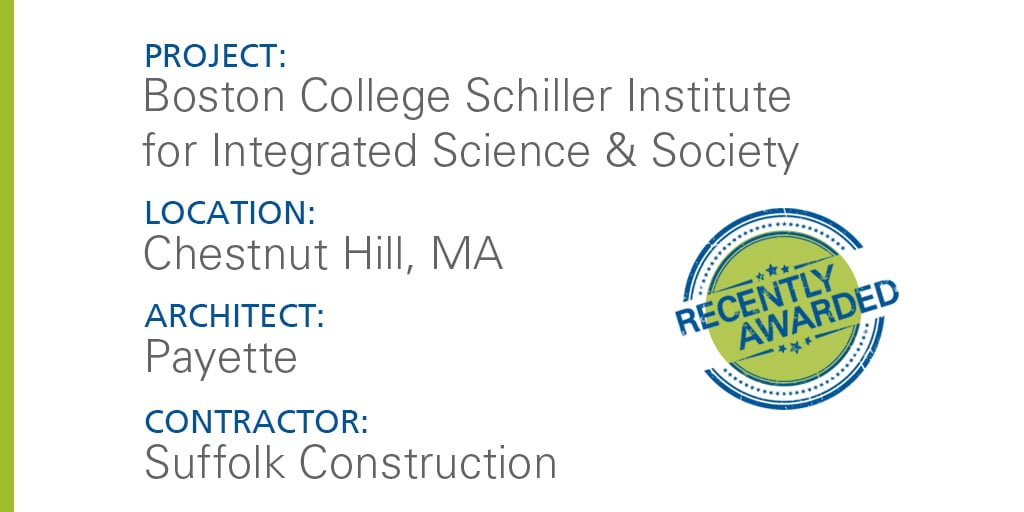 One of the newest interdisciplinary facilities arriving to Massachusetts is the Schiller Institute for Integrated Science & Society (IISS) on Boston College's Chestnut Hill campus. This ~150,000 sq. ft. building, replacing Cushing Hall, will feature research and teaching laboratories as well as maker spaces.
Collaborating with architect Payette and construction manager Suffolk Construction, New England Lab was chosen to supply laboratory furniture and fume hoods for studies in applied science, computer and data science and global health.
Adaptable pre-plumbed and pre-wired freestanding Optima Series benches with epoxy work surfaces occupy a majority of the laboratories allowing flexibility for future growth and innovation. Areas reserved for engineering and prototyping are equipped with butcher block tops to handle heavy machinery and for easy maintenance.
We are excited to be a part of this project as Boston College aims to "foster faculty and student cooperation across departments and schools, strengthen teaching and research in the sciences, and enhance the University's ability to advance the common good through research focused on pressing global problems" (https://www.bc.edu/bc-web/centers/schiller-institute.html).