Georgetown University's New Science Center has been named "Regents Hall". This multi-million dollar project consists of Chemistry, Biology, Teaching, Research & Physics Labs. New England Lab's Design, Engineering and Project Management teams scoped out "best fit" products to meet the diverse needs of this multi-purpose lab facility. Some of the lab furniture provided: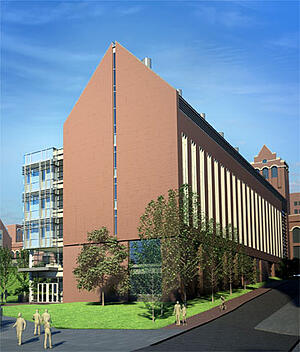 Wood (Caramelized Edge Grain Bamboo Veneer / FSC) Casework
RFV-2 Fume Hoods - Restricted Air Volume / High-Performance Fume Hoods
Optima 2500 Series Adaptable Lab Tables
Stratus Overhead Service Carriers
Steris® Sterilizers & Washers
Plymovent Stainless Steel Snorkels
Metro Shelving & Storage Solutions
Custom Strut-Type Overhead Racks combined with Laser Curtains for the Physics Laser Labs.
Upcoming phases include equipment furnished for their Clean Rooms. These items will include Wet Process Benches, Polypropylene Fume Hoods, Cylinder Tank Storage Cabinets & Manifolds and 60 gallon Acid and Solvent Storage cabinets.
Georgetown University President DeGioia states, "Regents Hall's facilities will support innovative science education at Georgetown. Its teaching spaces are designed with faculty input to support innovative teaching approaches, as well as collaboration with education specialists. We are committed to Regents Hall being a "green" building, obtaining a Silver LEED rating from the U.S. Green Building Council.".
New England Lab is proud to work in partnership on this project with:
Architect: Payette Associates, Boston MA
GC: Whiting-Turner
Click Here to link to Georgetown University's Regent Hall Website.
For more information regarding this project or to discuss your own project needs, contact us today.