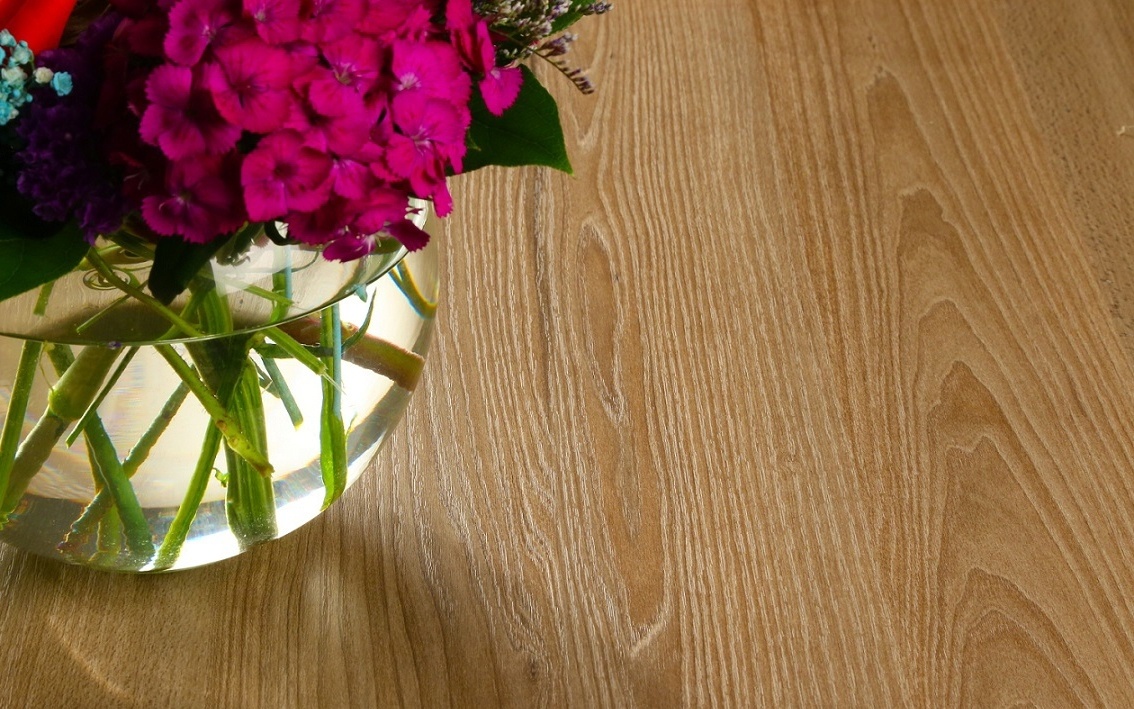 It looks like wood, it feels like wood, it may even smell like wood. Well, that's because it is wood! In this article we will discuss the pros and cons of building cabinets with different engineered panel products including actual hardwood veneers, reconstituted wood veneers, and woodgrain laminates. Can you tell which of these products is featured in the above image?
Hardwood Veneers: This may be the most familiar to you. Real hardwood logs such as Oak, Maple, and Walnut are sliced thin to create veneer "leaves" which are then glued to an engineered panel we call a "plywood core". These thin slices are generally 1/50" thick and range in width. Slices (officially called leaves) from the same log are adhered sequentially side by side to ensure color and grain consistency. The panel is then finished with a clear or tinted finish that prevents water or moisture damage, is easy to clean, and can be chemical resistant for laboratory environments.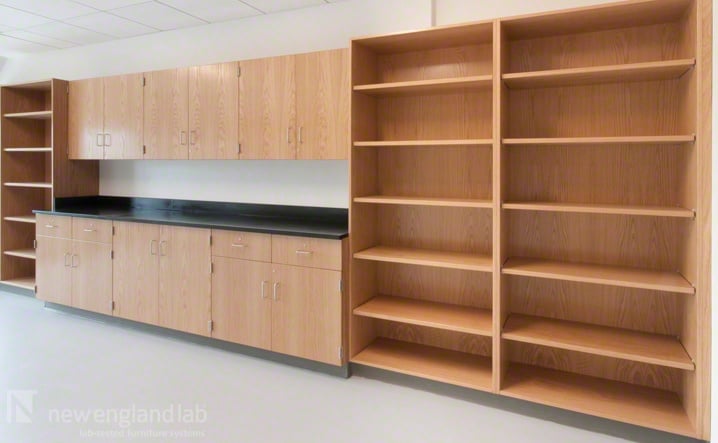 Pros:
Natural product with a beautiful variety of grain patterns
Made from natural hardwood logs
High quality finish
Can have a clear finish, stained or painted finish
Cons:
Can be expensive, as there are several steps to manufacturing panels
Variations in color or grain can spoil the appearance
Natural imperfections based on a somewhat arbitrary grading system
Can be difficult to fabricate large projects because of color and grain inconsistency or log availability
Future product matching can be challenging, since grains and colors will be from different natural logs
Sensitive to light and atmospheric changes
Reconstituted Veneers: These veneers are made by slicing artificial logs made from light-color softer hardwoods, such as Basswood, Obeche, or Poplar. These logs are manipulated by slicing methods, gluing schemes and color staining in order to create a new man-made log. The artificially created logs are then sliced to provide a thin veneer that is adhered to a plywood core. This process can be replicated over and over again to make sure all panels look almost (but not perfectly) identical. These panel products can be finished the same way the hardwood veneers are finished to protect them from water and chemical damage. The product is 100% authentic wood, however the grain that is designed to look like Walnut (for example) could be Poplar doing its best walnut impression. The look and feel is a beautiful warm wood product. Ask for some samples and you will be amazed!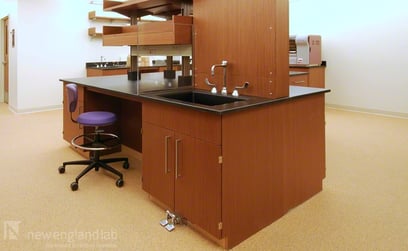 Pros:
Excellent color and grain consistency
Available in large quantities for consistency on large projects
Easy to match color and grain in the future
It is a natural hardwood product, so it looks, feels and smells like wood
Environmentally friendly: uses common trees with very little waste
Usually has a clear finish because it has been pre-stained
Cons:
This can still be expensive, as there are several steps to manufacturing panels. This depends on the hardwood you are trying to replicate. If it's an expensive wood like walnut, the reconstituted veneer is likely less expensive.
Can't claim that it is made from a specific naturally-growing hardwood tree
Woodgrain Laminate: Woodgrain laminate cabinets are also made of wood. Paper is made from wood , but the woodgrain patterns and colors are imitated and printed with colored inks on paper. The decorative papers are adhered to either Kraft papers with phenolic glue (High-Pressure Laminate) or they are heated and permanently fused to the plywood core material (Thermo-Fused Laminate). Each type of laminate has its pros and cons. The thicker phenolic laminates are more impact resistant than the thinner Thermo-Fused laminate. The Thermo-Fused laminate does not delaminate where the high pressure laminate could delaminate with abuse. Both methods are made from wood and glue, and some manufacturers can add an overall texture to the surface of the paper to imitate the look and feel of real wood grains. Advanced manufacturing processes actually align and match the printed grain pattern on the paper to the impregnated grain texture, making it more difficult to distinguish from a true hardwood veneer (see the leading image above). The paper laminate material has a protective pre- finished surface, and can be purchased as chemical resistant for lab areas.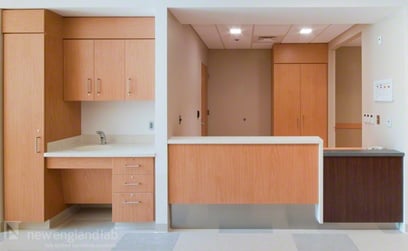 Pros:
Inexpensive, prefinished panels
Perfect color and exact grain consistency
Available in large quantities for consistency on large projects
Not as sensitive to light and atmospheric changes
Cons:
Risk of chipping (TFL) or delaminating (HPL)
Shorter lifespan than hardwood veneers
Not all manufacturers add texture
Can't claim it's made from a specific naturally-growing hardwood tree
Laminate designs become discontinued over time, may be hard to match long term
Difficult to repair
How will your next wood cabinet be designed? For questions about this contact our Client Technical Services Manager now!
Leading Image of Textured Laminate provided by Stevens Industries.