With almost 700 images collected over the years, a few stand out as unique and noteworthy. We have compiled a list of the top 10 unique lab photos and why we think they are so special! We hope you agree and perhaps some of these images will be an inspiration for your next laboratory.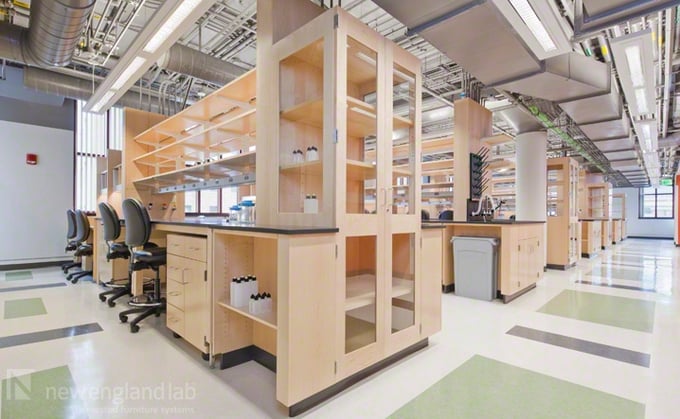 10) Tufts University Arnold 7 Neuroscience– This Lexington Series wood veneer laboratory was designed by Cannon Design to have a tall glass door unit at the end of the lab bench, making this particular shot stand out as impressive and unique against so many other lab furniture images.

9) Idexx Westbrook Facility– It's not often we get a panoramic shot of a laboratory. This wide view of the autoclave space featuring our stainless steel scrub sinks and tables, a stainless steel mobile wire shelving unit and a stainless steel mobile cart, steals the number 9 spot on our unique image list.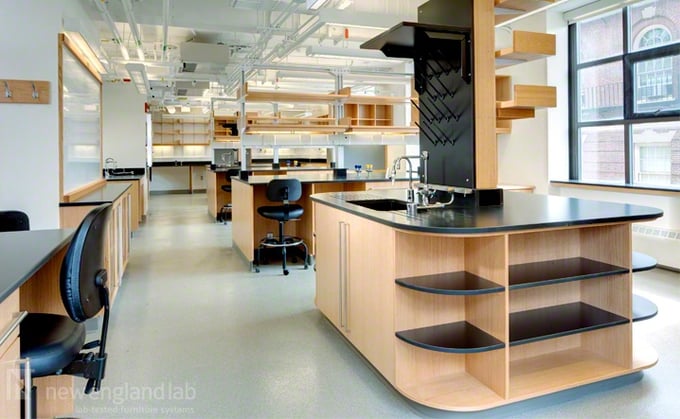 8) Harvard University Kunes Lab – With extra-long drawer and door pulls, epoxy worktops with radius corners, and matching pie-shaped epoxy shelves, the inspired creativity here by Hecht and Associates makes this lab image one of a kind.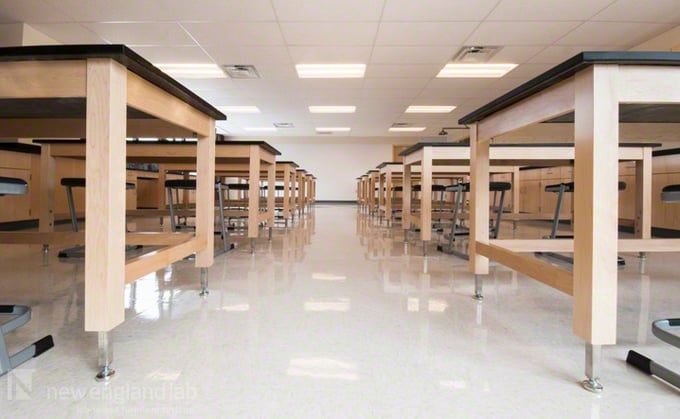 7) Casco Bay High School Science Lab Portland, Maine – To show off our height adjustable wood table legs, we got down to the floor for a low perspective, making these maple tables look like they belong to giant students!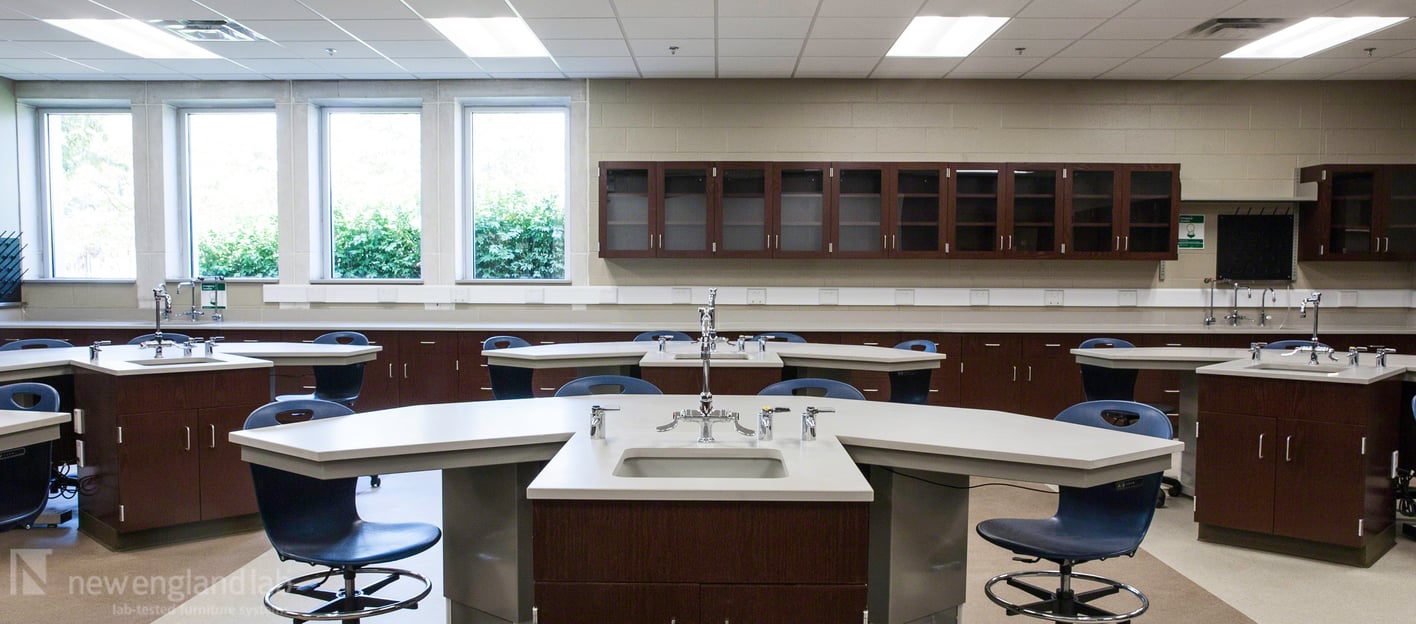 6) Eastern Mennonite University Suter Science Center – We've never seen a boomerang-shaped electric-motor adjustable-height lab bench docked to a sink base cabinet before! We also appreciate the custom stained red oak wood veneer and the light grey epoxy top combination. Designed by Blue Ridge Architects.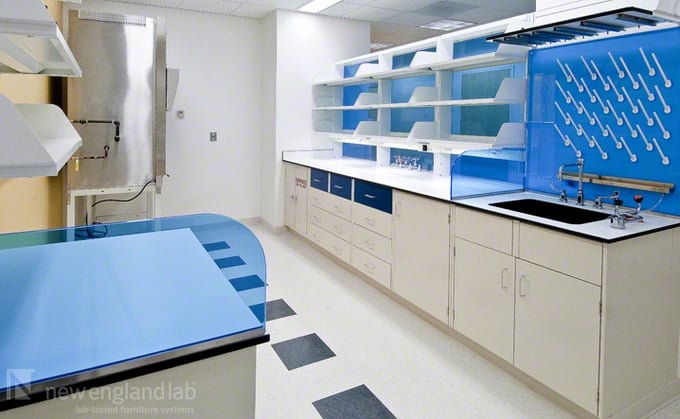 5) NIH NCI Imaging Suite, Building 37 – There's some wonderful creativity by LSY Architects in this bright white Manchester Series painted steel casework project. With blue upper drawers and blue acrylic used for splash guards, back panels, and pegboards, we don't think you've seen a lab like this before!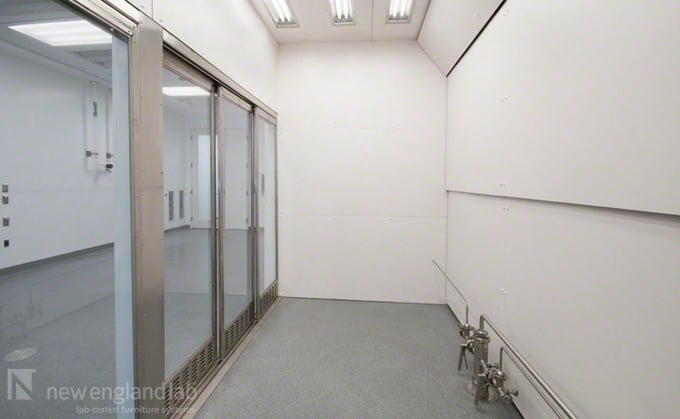 4) UMass Dartmouth Bioprocess Fume Hoods – It's not very often we can get inside a Pro Series fume hood and take a picture looking out. These extra deep floor mounted fume hoods allowed us to fit our full size tripod inside to capture the view that your hazardous chemical fumes get before they are safely exhausted outside.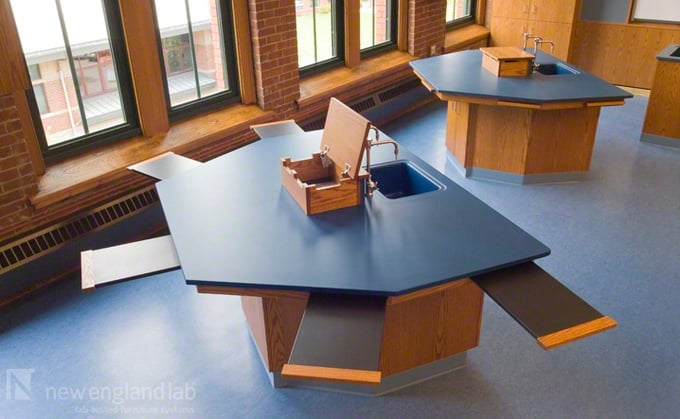 3) Worcester Academy Kingsley Hall Renovations– Not only did we get a nice bird's-eye perspective on a uniquely shaped student lab bench, but we were able to showcase its five integrated writing tablets. The space saving ergonomic design by PDT Architects with its blue epoxy tops set against rich oak and red brick got this the number 3 spot on our list.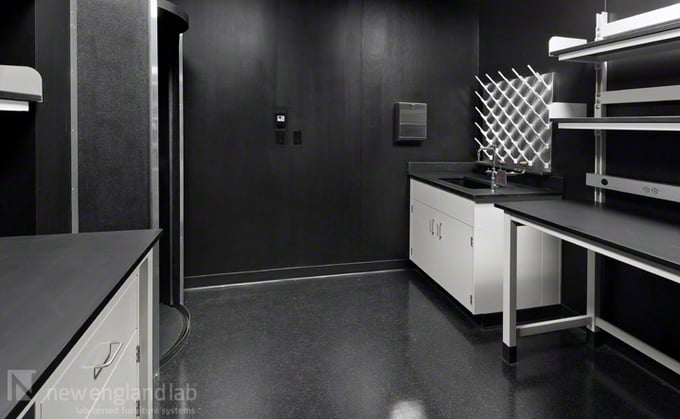 2) Boston Biomedical – Wow, the contrast of these bright white Manchester Series painted steel lab cabinets and a Cambridge Series table set against black darkroom walls really makes this image unique. This artistic well-conceived shot was taken by Boston-based photographer, Warren Patterson.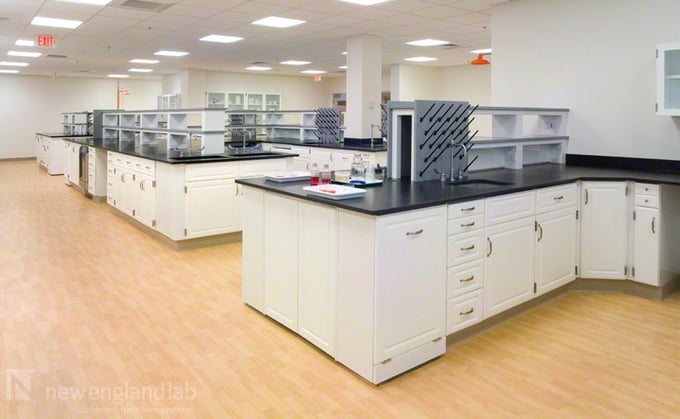 1) Ocean Spray Processing Plant – The most unique shot in our library belongs to a lab that was designed to look like a farmhouse kitchen. Keeping with Ocean Spray's New England corporate headquarters architecture, these bright white raised panel doors and drawer fronts were artificially imitated from marine grade plastic that was impervious to cranberry and blueberry concentrates. The painted steel cabinet bodies were made from galvanized steel for an extra level of corrosion resistance against all the water that gets used in a beverage lab such as this. These Designer Series overlay cabinets were then fitted with a combination of traditional pulls and knobs to complete the farmhouse look. Congratulations to Ocean Spray for making the top spot in our unique laboratory photo countdown!
Thank you for reading our blog! Subscribe for more top 10 countdowns and other helpful lab furniture related articles!