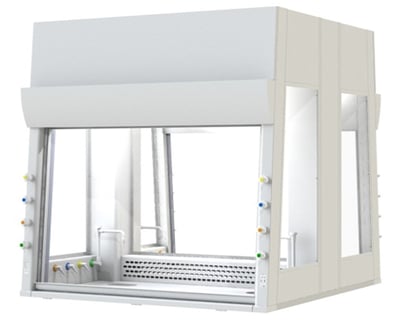 Introducing the Observation2™ Student Fume Hood!
Mott Manufacturing, one of the leading fume hood manufacturers in North America, has announced that it has recently given the ObservationTM fume hood a complete overhaul. The new hood, now dubbed the Observation 2TM features a more modern look but more importantly can now be pre-plumbed and pre-wired at the factory. Without needing to connect service valves into base cabinets onsite, the new 3" wide hood post can accommodate up to 4 front-loaded plumbing fixtures and a duplex receptacle per hood side post. (If you are doing the math in your head that's 16 plumbing services on a double sided hood, but this real estate can also be used for electrical fixtures instead if needed) This pre-plumbed and pre-wired option can certainly save you money. Here are some other things you should know about this new product: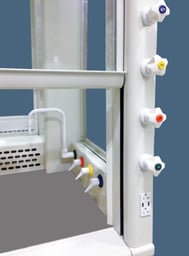 Maximized Glass – This hood is designed for student use and allows the instructor to see what students are doing inside the hoods. By utilizing as much glass as possible the Observation 2TM fume hood has maximized sightlines within the hood while still allowing for plenty of plumbing fixtures. There is even enough room for vent pipes to accommodate acid cabinets below.
Modern Fixtures – Because the hood posts are so narrow, Mott recommends using the modern bonnet style handle for more protection of your knuckles. While standard 4 cross handles do fit, they can be tight for your hands if adjacent hoods have fixtures in both hood posts. Also modern are the white electrical fixtures that come standard with USB chargers and are mounted on the hood posts without cover plates.
Ergonomics – Well this isn't new, but the front of the hood is sloped 5 degrees to be more comfortable for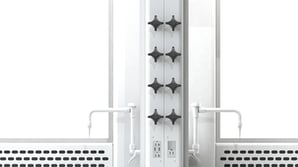 the user. The sash however is now a chain and sprocket system which is far more reliable, and moves much more smoothly than the previous cable and pulley sash.
Things to Note – Be aware that the Observation 2TM teaching hood does not have a liner, and is not designed for heavy chemistry or heavy acid use. The interior is powder coated galvanized steel but could be purchased as powder coated stainless steel or brushed stainless steel for more resistance. Also, because of the rear glass there is not a traditional baffle system. That means that a higher static pressure is required to pull heavier-than-air fumes from the worktop. Another detail to be aware of, this hood has a rectangular duct collar, so a transition to round can be purchased if needed.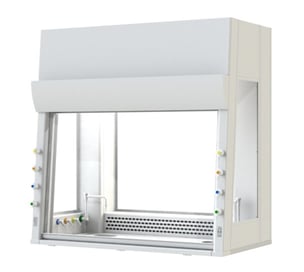 Features Carried Over – Things not redesigned were the energy saving Self Leveling Sash that drops down to 18" if lifted above that mark. (No hard sash stop needed) Also this version still has the flush lower airfoil with lift up spill containment trough and is UL 1805 Classified.
Modern Look – Incorporated into the new design is a hidden bypass and an access panel for changing the light with no visible fasteners.
Observation2TM fume hoods are available in single and double sided version in both CAV and VAV configurations and can be run as low as 60ft/min according to ASHRAE 110 standards. Contact your local New England Lab account representative for more information on the Observation2TM fume hoods to learn how they can be integrated into your new teaching environment project!