Over the past 25 years, New England Lab has sought to foresee and adapt to industry changes to continually service customers' fluctuating needs. In an effort to meet the growing demand of fast-paced projects and quick replacement parts, New England Lab developed NEL Direct.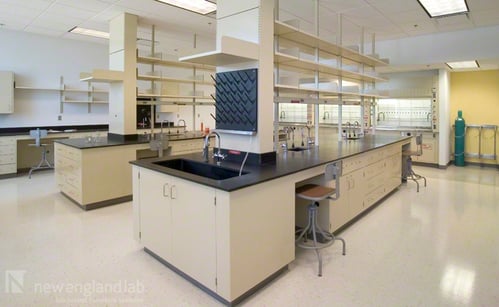 In 2010, New England Lab created NEL Direct, a rapid ship program that stocks a variety of the most common laboratory and industrial furniture and accessories. Their goal is to have what you need and deliver it quickly, consistently, and with attention to detail. That's why the motto is "Where Quality Products and Exceptional Service Meet Your Deadline!"
Why choose NEL Direct?
In-stock products are available to be shipped anywhere within the continental US within 5-7 business days.
Friendly, quick, and reliable service will carry through your project from start to finish.
Our Client Solution Specialists are available to assist you with product needs through online, phone, or email inquiries.
Fabrication, design assistance, and inside delivery services can be coordinated upon request.
NEL Direct is made possible through the partnership of multiple manufacturers and vendors. Check out who they partner with and the scope of product offered:
| | |
| --- | --- |
| Mott Manufacturing is a top quality laboratory furniture manufacturer that provides a selection of wood, painted steel, and stainless steel products. NEL Direct stocks a variety of painted steel furniture that ranges from tables, to casework and fume hoods. | |
| InterMetro (Metro) is a manufacturer and supplier of storage units and carts to transport and organize products in any environment. Standard shelving units are sold at www.NELdirect.com, but NEL Direct can order from Metro's entire product selection in the event that different specifications are necessary. | |
| Biofit is a manufacturer and supplier of ergonomic seating. These chairs feature molded foam seats, and have the industry's best 24/7, 13 year warranty! With multiple different colors and styles available, contact NEL Direct to find the chair that fits your space. | |
| Inter Dyne Systems is a fabricator and supplier of laboratory pegboards, shelving and narcotic cabinets. NEL Direct has epoxy, stainless steel, acrylic, and phenolic pegboards in stock. | |
| WaterSaver is the world's largest manufacturer of laboratory faucets and valves. There are a variety of fixtures, faucets, and services such as eye wash, faucets and service valves available online. | |
For more information on NEL Direct and the products available, please visit NELdirect.com or contact 888.635.2949 or info@NELdirect.com to talk to a client solutions specialist.