This just in: Labconco, a pioneer of airflow products already used in forensics labs, has done it again with products that protect vital evidence! With their forensic expertise, Labconco developed both fuming and drying cabinets that will improve on your current ability to discover evidence. Here's what we found when we started our investigation: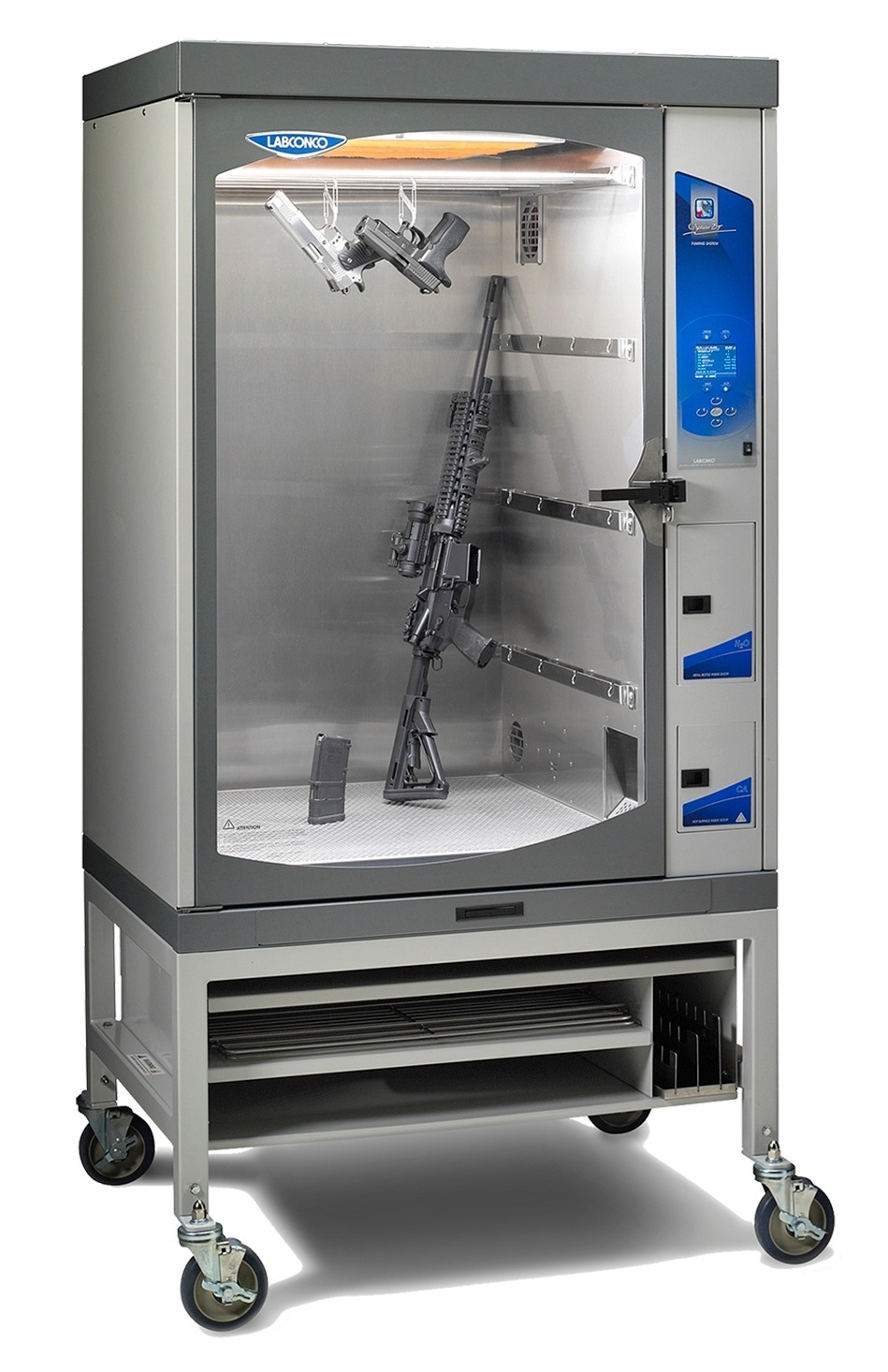 Fingerprint Fuming: Labconco has released a benchtop CA fuming cabinet called the CAptureTM BT Fuming Chamber. By moving the blowers, filters and controls to the side of the unit, they have created a benchtop fuming chamber with maximum usable height. With a 19 cubic foot stainless steel lined fuming chamber and over 58" of diagonal length, there is plenty of room for fixing fingerprints on longer evidence such as a long gun or samurai sword.
During the fuming process, the Cyanoacrylate fumes permanently expose and fix the fingerprints to make sure you can send the right outlaws to the rock. To accomplish this, the unit has a built-in humidifier to maintain up to 80% humidity within the airtight chamber. The humidity level, fuming temperature, and fume exposure/exhaust times are all automated by the microprocessor. Users can choose between 3 factory set programs or customize 17 other fuming programs. An LCD operator displays the progress of the current fuming cycle, filter life remaining and low water level and open door alerts.
For safety and reliability, cabinets are equipped with Acti-VentTM Smart Controls that prevent evidence from being over exposed and protect the user during evidence unloading with both a standby exhaust and cleaning exhaust mode for cleaning when the door is open. Exhaust can continue up to 30 minutes after the fuming cycle ends to prevent overfuming that can ruin prints. This ensures your fingerprints are crisp and readable even if you were busy when the fuming cycle ended. The internal LED light will blink for thirty minutes at the completion of a fuming cycle letting you know it's time to remove the evidence.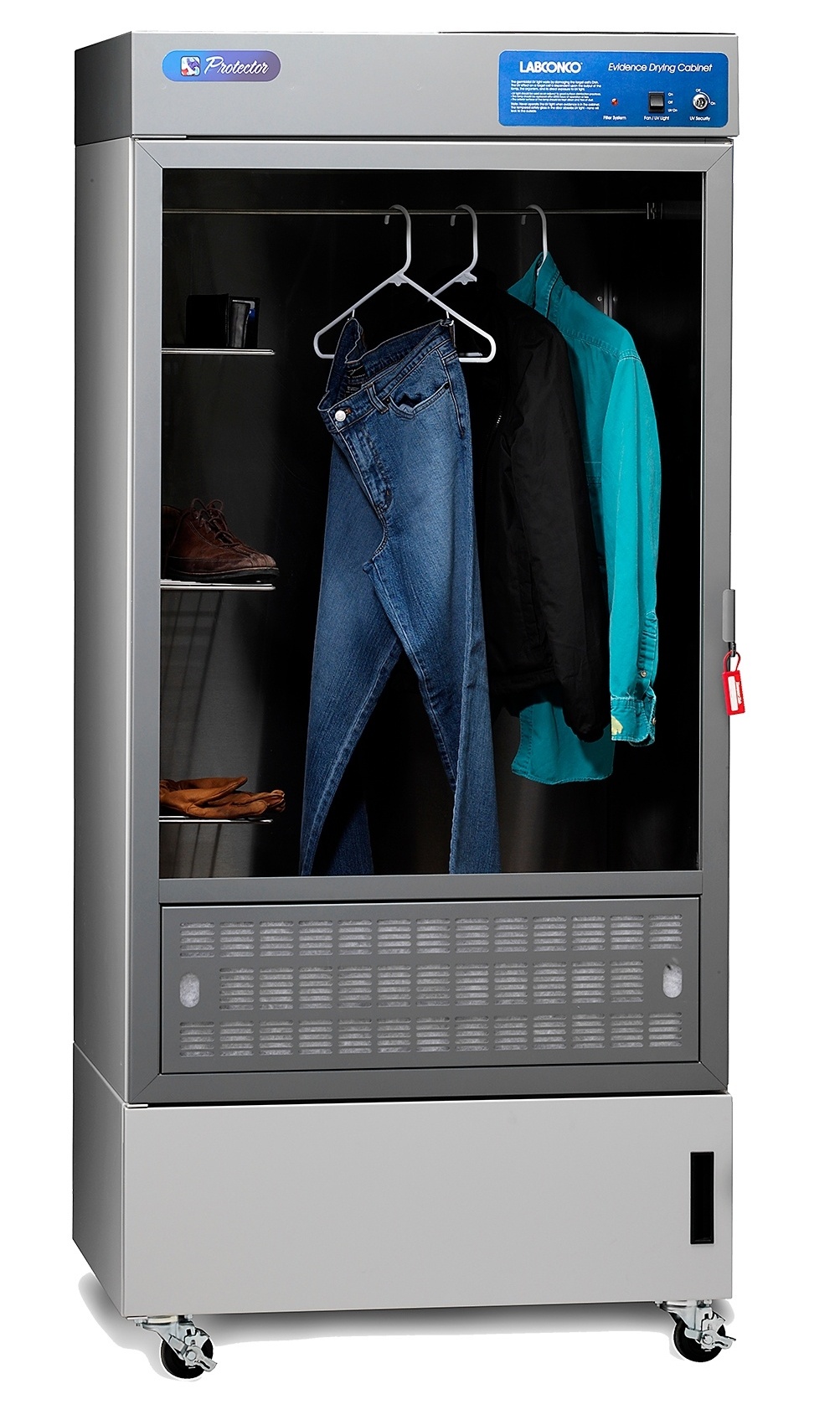 Evidence Drying:

Labconco has a full line of evidence drying cabinets for effective drying of water, sweat, blood-soaked, or other wet items. The HEPA filtered exhaust traps biohazards while the carbon filter traps odors so that air can be safely recirculated back into the room. The pre-filter prevents evidence contamination by keeping particles from entering the chamber as air is brought in for drying.

The chamber includes 3 shelves, and a stainless steel hanging rod for organizing wet evidence such as clothing, bedding, shoes, wallets and gloves. The spacious stainless steel interior has a sloped floor for draining and can be supplied with a built-in drain pump and spray nozzle to aid in cleanup. A drying cabinet model with a UV light is also available. The UV light is used after decontamination to denature any remaining DNA, eliminating the possibility of DNA cross contamination. The UV light requires a security key to prevent accidental UV light use when evidence is present.

Now that the facts have been presented, it's clear that this is an open and shut case! The evidence is overwhelming; Labconco's crime-solving equipment is guilty of slaying the competition! For more information on Labconco's forensics equipment go to our website or contact a New England Lab representative now!