Have you ever had a meeting in "Innovation" or "Optimization"? With these values incorporated throughout our buildings, New England Lab, our clients, and our partners will soon be familiar with planning and collaborating in conference rooms with these types of names. What's our reasoning for labeling spaces with these seemingly abstract concepts? Our aim is to further integrate our corporate values and make them a reality for all who interact with New England Lab.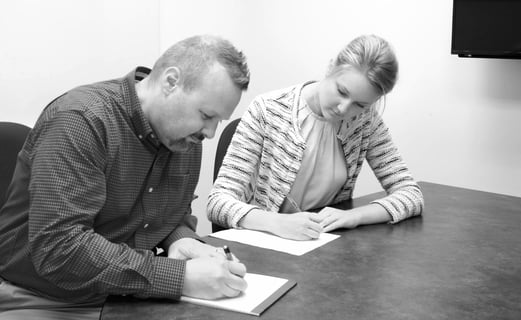 Check out the 14 conference room names below to learn a little more about who we are and what our company continually strives after.
Collaboration - We value the connections and working relationships that develop through a spirit of collaboration. By sharing ideas we hope to add our expertise to yours to develop a functional and beautiful laboratory.
Discovery - Learning through conversation and training is the cornerstone of our business. Fostered by asking questions, the spirit of discovery is essential to understanding and meeting clients' expectations.
Innovation - We believe that advancement in furniture design enhances our clients' ability to make scientific progress. We value efficient and effective workspaces developed through innovation.
Synergy - By working together with our clients, contractors and designers, we know the results will always be greater than working alone. We rely on synergy to plan and build better laboratories.
Adaptability - Constant changes in science, construction methods and project schedules are exciting but require adaptability. We are equipped and ready to find solutions that are responsive to our clients' needs.
Ingenuity - Creative thinking is an important way we problem solve. Looking past limitations and using ingenuity allows us to improve the clients' experience through better solutions.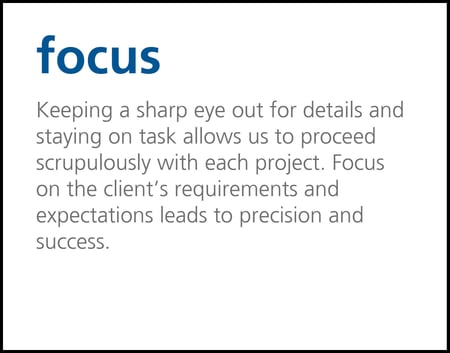 Focus - Keeping a sharp eye out for details and staying on task allows us to proceed scrupulously with each project. Focus on the client's requirements and expectations leads to precision and success.
Visionary - Keeping an eye on the path ahead is paramount to successfully moving forward. We encourage our visionaries to proactively anticipate our clients' needs and pioneer industry changes.
Insight - Each one of our team members has unique experiences, skill sets and knowledge. Insight is valued because it means our individual areas of expertise will yield fresh ideas for the team.
Enthusiasm - There is an excitement that comes from helping our clients build spaces where new discoveries in health and science are being made. Enthusiasm brings a powerful positive energy that makes work fun.
Diligence - Thoughtfully considering everything we do allows us to be more accurate with our resources. Our diligence with details allows us to carefully complete any project.
Optimization - Whether it's materials, workspaces or time, optimization of these resources is critical in providing a solution that fits your valued budget, ergonomic workflow and required timeline.
Inspiration - We are motivated by new concepts that originate from our varied backgrounds, passions and experiences. When inspiration hits, we take action to provide creative choices for our clients.
Strategy - Preparation and strategic planning is a tremendous part of any successful project. Time management, vendor management, education and safety are just a few of the many concepts we plan to be ready for.
The challenge here is to not say the word "room" after every value. It's not "The Enthusiasm Room", it's just "Enthusiasm". Once we are accustomed to this, being encouraged in "Inspiration" and working thoroughly in "Diligence" will emerge naturally. We are currently writing this blog in "Focus" and experiencing the meaning and benefit of this value now! The simple integration of values into New England Lab's everyday experience is expected to bring about stronger internal determination and even better service and product solutions for our clients. To learn more about our company and how we do business, visit our website at newenglandlab.com.